How to Identify and Roof Storm Damage Repair
Storms come and go quickly, but can leave behind extensive damage to your roof that could worsen over time if not repaired. As a homeowner or business owner, it's essential to recognize the signs of storm damage on roofs and repair them promptly. Failing to assess and rectify these problems now will only mean greater expenses later when more serious repairs are unavoidable. For marketers looking for ways to help their clients keep their roofs in good condition, understanding how to identify roof issues caused by storms and some tips for roof storm damage repair—and this article offers tips on exactly that!
Inspect your roof for signs of storm damage, such as missing or damaged shingles, broken tiles, and any water leaks 
After enduring a severe storm, it's crucial to investigate your roof right away for any signs of damage. Even if your shingles seem intact from the ground, there may be underlying issues that can worsen over time. Look for missing or damaged shingles, broken tiles, and any water leaks in your attic or ceiling. Catching these problems early can save you from more extensive (and costly) repairs down the road.  
Clean up any debris or fallen tree branches that may have caused the damage 
When a storm hits, it can cause serious damage to your roof. The first step to repairing roof damage is identifying where it occurred. Once you've identified the location, it's important to clean up any debris or fallen tree branches that may have caused the damage. From there, you can assess the extent of the damage and determine whether you need to call in a professional or if you can tackle the repairs yourself. It's vital to address roof storm damage quickly, as even small leaks can lead to big problems down the line if left unchecked.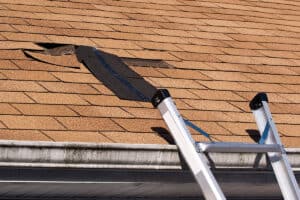 Identify the source of the damage and repair it promptly
When heavy storms hit, your roof can take quite a beating. Even if your home appears to have survived the storm unscathed, hidden damages can lead to bigger issues down the road. The key to preventing these problems is to identify the source of any storm damage and repair it promptly. Fortunately, there are several ways to detect any post-storm damage to your roof, even if it isn't readily apparent. Once identified, repairs must be done right away to prevent further damage and potential health hazards.  
Hire a professional roofer if necessary to make sure everything is fixed properly 
Your roof is one of the most important parts of your house. It protects you and your home from the elements, keeping you safe and dry. So when it comes to fixing any issues with your roof, it's important to make sure the job is done right. While you may be tempted to tackle the project on your own, it's wise to consider hiring a professional roofer. Not only do they have the necessary skills and expertise to get the job done properly, but they also have the right equipment and materials to ensure a long-lasting repair.  
Schedule regular inspections of your roof to help prevent future storm damage 
Your roof is the first line of defense against the elements, but it takes a beating every time a storm hits. That's why regular inspections are so important – they can catch potential problems before they become major issues. By checking for loose or missing shingles, damage to the flashing, and other signs of wear and tear, you can rest assured that your roof is in good shape and ready to withstand the next storm.  
Understand insurance coverage and file a claim if necessary for repairs related to storm damage
When it comes to storm damage, your roof can take the biggest beating. From high winds to hail and heavy rain, your roofing system can be put to the test. It's important to know how to identify and repair roof storm damage, so you can keep your home safe and secure. Depending on your insurance coverage, you may be able to file a claim for repairs. Understanding your policy and the steps to take can be overwhelming, but it's worth it in the end.  
It is important to stay on top of your roof's storm damage prevention and maintenance year round. Taking the time to inspect your roof for signs of storm damage and make repairs quickly can help keep you, your family, and your home safe. Additionally, remember to check your insurance coverage and file a claim if necessary so that you don't have to bear the expense of costs associated with emergency roof repairs on the road.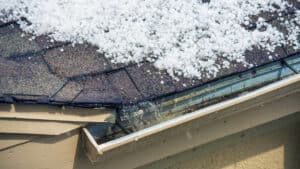 7200 Ranch Rd 2243, Georgetown, TX 78628, United States
(512) 844-1802