We're Your Insurance Claim Experts
Here at Action Roofing & Construction, we're dedicated to fighting hard for our customers when it comes to getting fair treatment from insurance companies. We've talked in multiple blog posts (such as here and here) about how a denied hail damage roof insurance claim isn't the end of the story. We don't make those posts just because it's possible to dispute a denied claim—we make them because we have an established track record of helping our customers fight denials.*
For today's Project Spotlight, we're highlighting a roofing project we completed that featured a successfully disputed hail damage roof insurance claim. We were able to help this homeowner finally get some movement from their insurance company and fix their long-damaged, leaking, and tarped-over roof.
Background and Client
Our client for this project was located in Killeen, north of Austin. Major storms had recently passed through the area, leaving Killeen roofing companies canvassing the area to help homeowners get back on their feet following damage to their home. We spotted this client's home, covered in tarps from a storm many months ago that were now blowing off on account of the second storm that had just passed through. We wanted to do what we could to get this leaking and battered roof fully repaired!
The Project: Hail Damage Roof Repair
The roofing aspects of this project were pretty straightforward. The roof had been significantly damaged by hail and strong winds brought by recent storms, and it was up to us to fully restore it to protect the home's interior from the elements. 
As highly qualified storm damage repair and restoration specialists, Action Roofing is uniquely equipped to handle these types of situations. We work efficiently and effectively to ensure storm damage is not only fully repaired, but repaired quickly to minimize exposure of the home to the elements.
The Challenges: An Unresolved Hail Damage Roof Insurance Claim
There was another wrinkle to this project, however, which we see all too often: This homeowner had been fighting with their insurance provider for more than six months to receive coverage for storm damage to their roof. The damage had previously been tarped over, but not fully repaired. Now, with another storm passing through the area, water had begun to leak into the interior of their home, including both kids' rooms. 
So before we could complete a full repair, we'd first need to help resolve their outstanding hail damage roof insurance claim. Luckily, this is where our team at Action Roofing truly shines!
The Result: A Quick Resolution and Complete Repair
Our team got to work in moving this client's insurance claim along and restoring their roof. We filed a new claim for damage to the roof, providing multiple pictures substantiating the damage claims. In the meantime, we provided emergency roof repairs that would protect their home more effectively than just tarps.
Within two days, we had received approval for a full roof replacement, all covered by their insurance company. We received approval via photographic evidence only, with no adjuster visiting the homeowner's property. With approval in hand, we completely reroofed this home, replacing patches of rotten wood from the existing leaks and covering the home in beautiful Owens Corning Duration Estate Gray shingles. The homeowner was delighted with the end result and our ability and willingness to substantiate their insurance claim.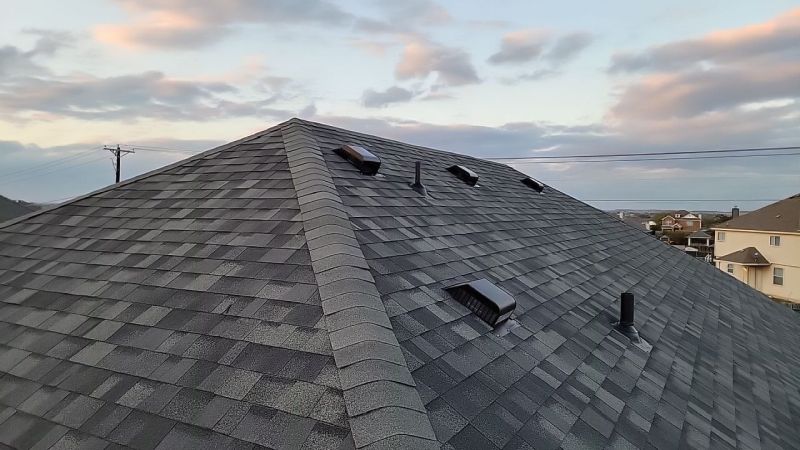 Action Roofing: We Fight for Our Customers
At Action Roofing, we consider our role as roofers to include much more than just roof repairs and replacements. We have the skills and knowledge necessary to substantiate insurance claims, as well as repeated experience with navigating the insurance claims process that our customers just don't have. While we can't negotiate directly with your insurance provider, our team takes every step legally available to us to fight for you and get your claim resolved quickly—so you can get your roof restored and protect your family.
The next time your home is damaged by hail and severe storms, don't waste time waiting for your roof insurance claim to be resolved all on its own. Contact Action Roofing, and we'll help you navigate the claims process from start to finish.
*NOTE: Action Roofing & Construction Inc. and its authorized representatives are NOT acting as Public Insurance Adjusters and will not negotiate with insurance on Customer's behalf.