Another Hail Storm Sweeps Through Central Texas
Earlier this month, we reported on hail that swept through Central Texas, across Killeen and stopping just short of Temple. Well, now Temple has been hit as well, with major hail damage sweeping through the area, particularly impacting the southwestern portion of the city. Many Temple, TX homeowners are now faced with a hail damage repair following this major storm.
At Action Roofing & Construction, we specialize in storm restoration, which includes hail damage repair services for your roof and your entire home exterior, including siding, gutters, and more in Temple, TX. If your home was affected by this storm, don't hesitate to schedule an inspection! It's important to act fast and repair the damage to avoid missing your window to file an insurance claim and to prevent further roofing issues.
Hail Reported in Temple TX, Lampasas, and Harker Heights
This was a major storm in Central Texas, producing hail that fell across a wide area stretching from Lampasas through Harker Heights and into Temple, TX. Hail also fell in the southern portion of Killeen, which saw a major hail storm as recently as the end of October.
Hail fell hard and fast in many areas, particularly near Belton and Salado to the southwest of Temple. This hail was large and dense enough to cause significant property damage to homes and vehicles in the area, and many hail damage repair projects have already been scheduled throughout southwestern Temple, TX.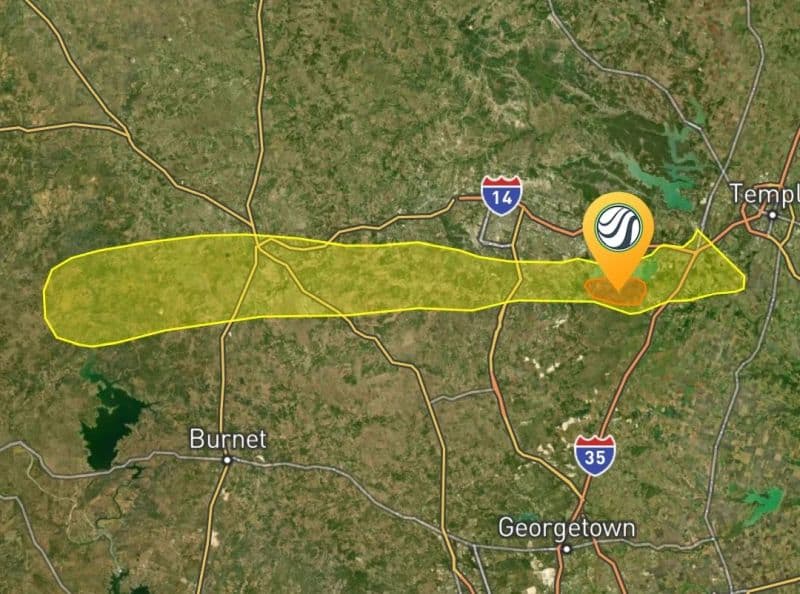 How Can I Spot Hail Damage?
If your home was in the path of this storm, chances are portions of your home exterior were damaged by falling hail. However, there are a few telltale signs you can look for that are clear indicators of hail damage. Signs of hail damage include:
Missing or loose shingles

– While not always a result of hail, missing or loose shingles are a clear sign of storm damage that should be repaired immediately. Shingles that are knocked out of place leave your roof's underlayment vulnerable to moisture intrusion and major roofing issues, such as leaks.

Dented siding or deck

– We don't advise climbing onto your roof, especially following a hail storm. However, if other portions of your home's exterior are dented or dinged—including your siding or an exterior deck—there's a strong likelihood your roof has been damaged as well.

Asphalt granules near your home

– Impacts from hailstones can knock the outer layer of granules loose from asphalt shingles. While a few granules aren't cause for concern, a large amount of granules near your downspout or on the ground near your roof's edge are a sign that hail did significant damage to your roof.
Act Fast to Repair the Damage!
You may be wondering if it's necessary to schedule an immediate hail damage repair. While hail damage can vary in severity, the answer to this question is definitely yes! Leaving any amount of roof damage unaddressed is risky, as this can leave your roof vulnerable to moisture intrusion and other problems. Roofing issues tend to compound over time, so repairing your roof quickly is a cost-efficient way to make sure your roof is in excellent condition.
Schedule Your Hail Damage Inspection & Repair in Temple TX
Not sure if your home was damaged by hail? Call Action Roofing! We're the go-to storm restoration experts here in Central Texas, and we specialize in thorough hail damage inspections that will substantiate any insurance claim you need to make for hail damage to your roof.
With our roofing expertise and deep roots in the construction industry, we have the right blend of knowledge and skills to repair your entire home following a storm—including your roof, siding, windows, gutters, and more. Contact us today to schedule a free inspection!