Killeen Roofing Companies Working Hard to Repair Hail Damage
Just as October was coming to a close and Halloween was fast approaching, a major hail storm pummeled Killeen, TX. This storm pelted the city with large hail, causing severe roofing and property damage throughout Killeen, particularly in the southern portion of the city.
Action Roofing & Construction has been hard at work helping homeowners throughout Killeen, TX restore their property following this significant hail storm. Our roofing and storm restoration team has been working nonstop to provide high-quality repair and restoration services and to help our customers navigate the insurance claims process. Here's what you need to know about the storm!
Hail Storm Pelts Killeen, TX
This hail storm swept through on October 24th, primarily impacting the city of Killeen, TX located around 60 miles north of Austin. While the entire city was affected by this storm, which also brought heavy rains and gusting winds, the worst of the hail and roofing damage has been reported in the southern portion of Killeen.
In particular, homes located along Bunny Trail received the worst of this storm, as well as homes east of South Fort Hood Street between Stagecoach Road and Stan Schlueter Loop. While these areas received the worst hail damage, hail reports from this storm stretched as far west as Kempner and all the way to Temple, TX east of Killeen.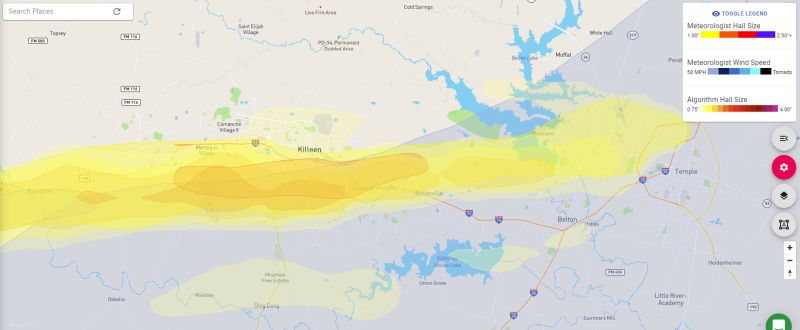 How Much Damage Did This Storm Cause?
While exact numbers haven't come out yet, this was a powerful storm producing several hazards that damaged homes throughout the area. Hail from this storm ranged from quarter to golf ball sized, plenty large enough to cause significant damage to roofing, siding, and other portions of home exteriors in the area.
In addition to hail, this storm also brought extremely high winds that blew shingles off of many homes. This left these homes exposed to moisture penetration and necessitated immediate repair.
What Should I Do If My Home Was Hit?
If your home is located in Killeen, TX, particularly the southern portion where the hail storm was at its worst, it's important to call your preferred roofing contractor to schedule a storm damage inspection immediately. Our team at Action Roofing is standing by to provide prompt, thorough inspections that will quickly reveal any and all storm damage to your home.
You should also contact your insurance provider right away to inform them about the storm. This will kickstart the insurance claims process, and calling immediately will ensure you don't miss the window your insurance company requires to file a claim. 
A roofing inspection will help with the claims process. Insurance companies will need to see evidence of storm and hail damage, which can sometimes be subtle. A professional roofer will be able to document the damage and point it out to your insurance adjuster.
Contact Action Roofing to Schedule Your Hail Damage Inspection!
At Action Roofing, we specialize in helping homeowners substantiate their insurance claims to ensure they receive fair compensation following roof storm damage.* When you schedule an inspection, a member of our team will fully document damage to your roof and home exterior. We'll also be happy to coordinate with your insurance company and send a representative to walk through your property with your adjuster to ensure no damage is missed.
Action Roofing is truly on your side when it comes to restoring your home and receiving fair coverage. We'll fight alongside you through every step of the insurance claims process. If you were impacted by the recent Killeen, TX hail storm, Action Roofing is the one to call! Schedule your inspection today.
*NOTE: Action Roofing & Construction Inc. and its authorized representatives are NOT acting as Public Insurance Adjusters and will not negotiate with insurance on Customer's behalf.