Does Homeowners Insurance Cover Roof Damage From Storm?
As a homeowner, preparing for bad weather is an inevitable part of living in our unpredictable world. Storms can cause severe damage to the roof of your precious residence and leave you with expensive repairs that could quickly overwhelm any budget. One question remains: does homeowners insurance cover roof damage from storm? It's essential to understand what types of storm-related damages are covered by traditional home insurance and which will require alternate solutions. Whether you're dealing with hail, wind, snow or flooding we'll dive deep into the answers so that when the next unexpected event arrives, you know exactly how to handle it!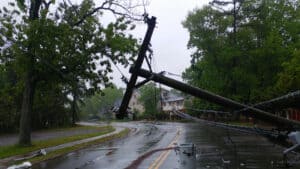 Overview of Homeowners Insurance and Roof Damage
Homeowners insurance is an essential coverage that protects your home and belongings from unforeseen events. One of the most common types of damage that homeowners may experience is roofing damage. This type of damage can be caused by a variety of factors, including severe weather conditions such as hail, strong winds, and heavy rain. In many cases, repairing or replacing a damaged roof can be an expensive and time-consuming process. Fortunately, homeowners insurance can help cover the costs associated with repairing or replacing a damaged roof. This coverage typically includes protection for the roof structure, as well as any damage that may result from a leaking roof. If you're a homeowner, having the right homeowners insurance coverage can provide peace of mind, knowing that your property is protected from unexpected damage.
Exploring the Different Types of Storms and Their Impact on Your Roof 
Storms come in many forms, from hurricanes to microbursts and tornadoes. Each type of storm can have a unique effect on your roof structure, making it important for homeowners to understand the different types of storms and how they may affect their homes. For instance, heavy snowfall or hail can cause damage to shingles while high wind speeds can cause flying debris to impact the roof and cause damage. In addition, flooding can lead to water penetration and long-term structural damage if not addressed quickly. Understanding the different types of storms and how they can affect your home is key when it comes to protecting your property from storm damage.
Understanding What is Covered by Your Homeowners Insurance Policy  
Your homeowners insurance policy will typically provide comprehensive coverage for storm-related roof damage depending on the language of your particular policy. In general, most policies cover wind and hail damage, as well as damage resulting from snow or ice buildup. However, it's important to understand that coverage limits may vary based on the age of your roof and the type of materials used in its construction. Additionally, flooding is typically excluded from homeowner's insurance policies and will require additional coverage to provide protection for your home.
How to Make Sure You Have Adequate Coverage for Potential Storm Damage  
With all that being said, it's important to make sure you have adequate coverage for your roof in the event of a storm. The best way to do this is by working with an experienced insurance agent who can review your policy and ensure you have the right coverage for your particular situation. It's also wise to inspect your home and roof annually to identify any potential issues that could be exacerbated by a storm. Taking preventative measures such as these can provide peace of mind knowing that you're prepared for whatever Mother Nature throws your way.
Tips on What to Do After a Storm  Hits
Of course, even the most careful homeowners can't anticipate or prepare for every storm. If a storm does hit your home, there are steps you can take to help protect your property and minimize damage. First and foremost, it's important to contact your insurance company as soon as possible after the event so that they can begin the claims process if needed. Additionally, you should take photos of any damage to your roof and document it for future reference. Finally, it's wise to contact a reputable roofing contractor to inspect the damage and provide a cost estimate so that you know exactly how much repairs or replacements will cost.
Important Considerations If Filing a Claim for Roof Damage from a Storm
When a severe storm hits, you may be left with significant damages to your roof. Filing a claim for roof damage can be a complex process, and it's essential to consider a few factors before getting started. First and foremost, document any damage thoroughly by taking photos and notes. It's also crucial to review your insurance policy to ensure that roof damage caused by severe weather is covered. Additionally, be mindful of any filing deadlines and the potential impact on your premiums. Paying attention to these significant considerations can help ensure a smoother and more favorable outcome when filing a claim for roof damage from a storm.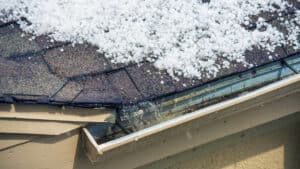 7200 Ranch Rd 2243, Georgetown, TX 78628, United States
(512) 844-1802