Don't Risk Your Top of the House…Get It Right With Temple Roofing
When it comes to the biggest investment of your life – your home – making sure that you get it right is absolutely critical and central to maintaining a beautiful, safe sanctuary. One of the most important aspects of owning a home that often gets overlooked is its roof. It's vital to ensure that quality materials and experienced professionals are used when installing or replacing your roof in order to guarantee reliable protection from the elements. Fortunately, our Temple roofing services  has all of those bases covered! With Action Roofing's expert contractors and top-grade materials combined with unbeatable customer service, there's no better choice for taking care of your unique roofing needs. Read on as we explore why choosing our Temple roofing service for all of your roof repair and replacement needs makes perfect sense!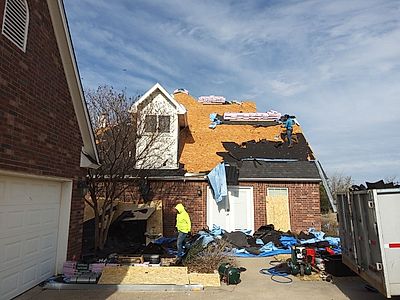 The Importance of Hiring a Professional Roofing Company 
Your roof is your first line of defense against harsh weather and natural disasters, making it one of the most important components of your home. That's why it's crucial to hire a professional roofing company to handle all of your roofing needs. From installation to repairs, a professional roofing company has the expertise and experience needed to ensure that your roof is in top condition and will provide the protection your home needs. Attempting to tackle roofing projects on your own can lead to costly mistakes and even put your safety at risk. 
Benefits of Action Roofing Services in Temple
Action roofing services in Tample offer a range of benefits to homeowners, not just in terms of aesthetics but also functionally. Hiring a professional roofing company can guarantee the safety and longevity of your property by ensuring that your roof is installed properly with the appropriate materials. With their expertise in the field, they can carry out timely repairs and maintenance to prevent potential damages and leaks. In addition to this, a well-maintained roof increases the resale value of a home and also contributes to energy efficiency by regulating temperature and reducing cooling and heating costs.  
Materials and Processes Used by Action Roofing 
Action Roofing prides itself on using top quality materials for all of its projects. Whether it's residential or commercial, they only use durable, reliable materials that are designed to stand the test of time. In addition, the roofing experts at Temple utilize a variety of cutting-edge processes to ensure that every job is completed with the highest level of precision and quality. From start to finish, their goal is to provide exceptional service that goes above and beyond what their clients expect. 
Common Risks of DIY Solutions and How to Avoid Them 
DIY solutions for home repairs can save you money and provide a sense of accomplishment, but they also come with some risks that shouldn't be overlooked. When it comes to roofing services in Temple, in particular, there are several hazards to consider. Falls from height, improper installation, and unknown underlying issues are just a few things that could go wrong. To avoid these risks, it's crucial to educate yourself thoroughly before beginning any project. Research the roofing materials and required tools, consult with professionals, and use caution at all times.  
Tips for Choosing the Right Roofing System  
Choosing the right roofing system can be a challenging task, especially if you're not familiar with the process. One of the most important things to consider when selecting a new roof is the type of material you want to use. There are several options available such as asphalt, metal, and slate. Each material has its benefits and drawbacks, so it's essential to do your research and consult a professional roofing contractor. Another critical factor to keep in mind is your budget. While investing in a high-quality roofing system can save you money in the long run, it's also crucial to consider your overall financial situation. 
Maintenance and Repair Services Offered By Action Roofing in Temple
Temple Roofing offers a range of maintenance and roof repair services to ensure that your roof stays in top condition. Whether you need a simple repair or a complete overhaul, our experienced team can get the job done efficiently and effectively. We understand the importance of keeping your roof in good shape, which is why we use only the highest quality materials and work to the highest industry standards. Our services include emergency repairs, routine maintenance checks, and complete roof restorations.  
Roofing is a complex and important process which requires the attention of expert professionals. Allowing an inexperienced person to attempt DIY temple roofing projects can be risky, leading to improper installation or even structural damage to your building. Choosing an experienced professional like those at Action Roofing in Temple is the best way to ensure that you're getting quality materials and processes that meet local building codes for safety and longevity. Their affordable services are tailored to meet any budget and their knowledgeable team will provide all the help you need in choosing the right system, performing maintenance checks, or making repairs as needed. Choose Action Roofing for your needs in Temple today and rest assured that your roofing project is in expert hands!
7200 Ranch Rd 2243, Georgetown, TX 78628, United States
(512) 844-1802