Action Roofing Has All Your Storm Restoration Needs Covered!
We love what we do here at Action Roofing & Construction Inc., and we're always looking for ways to share the beautiful projects we've completed for homeowners throughout our area. That's why we're starting a new Project Spotlights blog series! This is our space to share some of the most interesting, important, and exciting projects our skilled team has been working on.
In today's Project Spotlight, we're covering a full home rejuvenation we completed in Round Rock, TX. This homeowner called us in for a new lime wash, but it soon became a full storm restoration and roofing project that led to a gorgeous new look for this home! Let's take a look.
Our Client: A Round Rock Homeowner
For this project, we worked with a first-time client, a homeowner living just north of Austin in Round Rock, TX. Our client was referred to us by a past client of ours, a commercial builder who called on us four years ago for a project we knocked out of the park. 
We've since worked on six referrals from this client, for projects ranging from shingles claims to asbestos removal and a slate roof install. (They've earned a whole lot of referral rewards!) Each of these past clients came away completely satisfied with our work, so when this homeowner needed a contractor for a lime wash, we had the track record that said we could get it done. 
The Project: Lime Wash Turned Full Storm Restoration and Roofing
Initially, our client contacted us about completing a new lime wash on their home's exterior. However, as we got started with the project, we noted the age of the roof and the fact that hail had come through the area previously. We asked the homeowner if we could inspect her roof for hail damage—free of charge—and, as it turned out, she had enough damage to warrant a replacement.
Following this, our team set about completing the lime wash, as well as the full storm restoration of the roofing and property.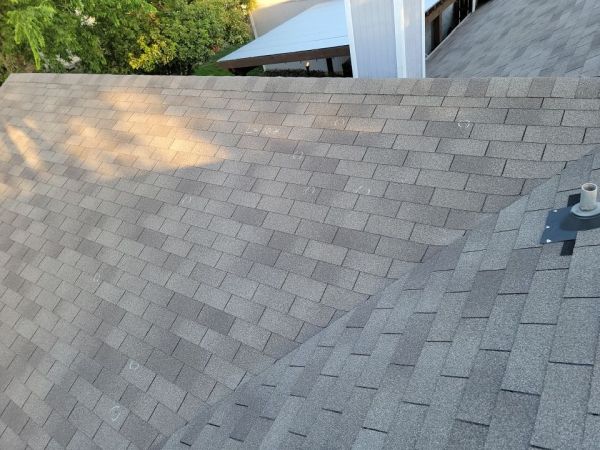 The Challenges: A Tricky Teardown and a Problematic Patio
No roofing and storm restoration project is complete without a handful of unexpected challenges to overcome. For this project, we were faced with two main obstacles. 
The first was the existing roofing system, which had not one, not two, but four layers of felt to remove. The felt did not come off easily, as it tore away in small pieces, some as small as dimes. This made avoiding a mess a challenge, as lightweight debris blows around easily and can be a beast to contain. What's more, the decking beneath the felt had begun pulling away from the frame of the house. This left the home vulnerable to moisture intrusion and other damage, and it would need to be resolved.
The other significant challenge was a patio built on the home. This patio was built on top of the roof, and since it was in good condition, it would need to somehow be navigated around without being damaged in order for us to tear off and replace the roof.
The Result: A Rejuvenated Home with a Brand New Look
In the end, Action Roofing came through for this client in every way possible. We took great care in removing the roof felt and avoided a catastrophic mess that would have been impossible to clean up. Our team also carefully renailed the decking to ensure the roof would be well constructed from the bottom up. 
To access the portion of the roof beneath the patio, we carefully jacked up the patio to gain access to the roof beneath it. This gave us enough room to work with while avoiding any damage to the patio itself.
Our team truly did it all for this project. In addition to the roof and lime wash, we also fixed areas of the home's siding that had rotted, added trim board, and replaced flashing around the home's chimney and integral part of a solid roofing  system. We also consulted with the client on changing the colors used for the home. The client wanted a new roof, but changing the colors of a home can be risky without careful consideration of how the new colors will fit with the look of the home. Our experts were able to coordinate all the new colors to give the home a fresh and completely rejuvenated new look.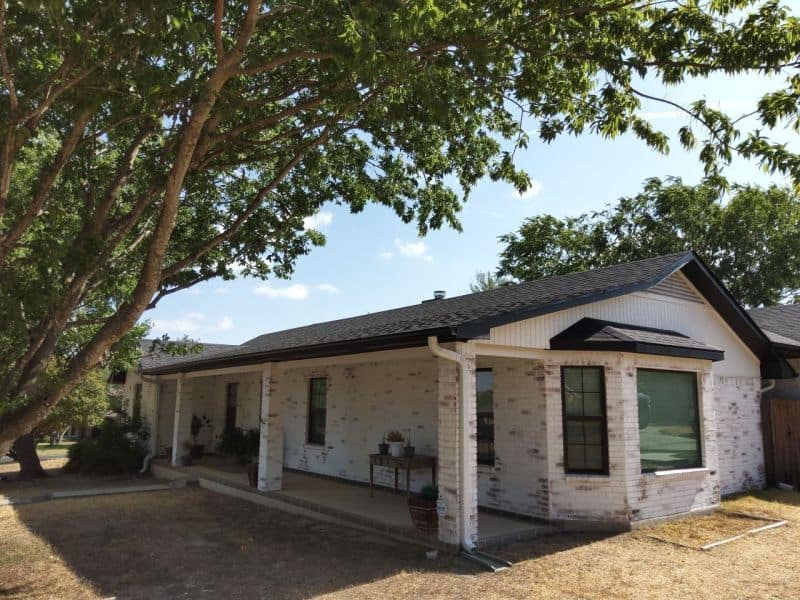 Your Expert Contractor for Storm Restoration, Roofing, and More!
Action Roofing & Construction is the go-to contractor for homeowners throughout Austin and the surrounding area. Our specialty is roofing, and our team has years of experience in construction projects. That means when you call on Action Roofing for your home exterior, storm restoration, or roofing project, we're the contractor that can truly do it all—and do it right!
To see future Project Spotlights, be sure to keep up with our roofing blog. And if you're hoping to repair, restore, or upgrade your home, contact us to start planning your project today.