In April, the town of Salado was struck by widespread damage as a result of an EF-3 tornado that passed through the area. The Salado tornado and accompanying storms damaged many homes in the area and injured nearly two dozen residents, leaving the community to pick up the pieces in the wake of these severe storms. 
But as tragic as this storm was, here at Action Roofing & Construction Inc. we've been inspired by how the community has come together, and we've been proud to contribute to the rebuilding efforts in the area. As a locally based roofing company, our job is about much more than building a roof and getting a paycheck. In many cases, especially with storm restoration projects, it's about helping people get their lives back. Here's how the community of Salado has come together following this tornado!
An EF-3 Tornado Strikes Salado
On Tuesday, April 12, a severe storm system swept through Central Texas. This collection of storms brought heavy rains, damaging winds, and produced multiple tornadoes, resulting in widespread destruction. 
One of the most severely affected communities was the town of Salado, located about 50 miles north of Austin, which was hit by an EF-3 tornado. An EF-3 tornado is described as "severe" on the Enhanced Fujita Scale, with wind speeds of between 136 mph and 165 mph. Indeed, this tornado brought widespread destruction, with 76 buildings either damaged or destroyed in Bell County according to KWTX. Along with the property damage, 23 residents were injured—though thankfully, no deaths were recorded.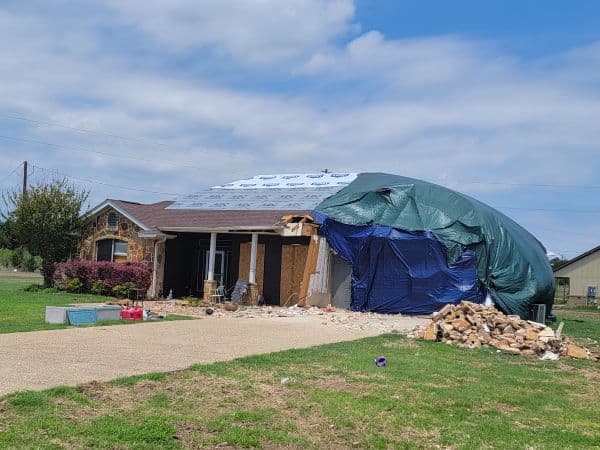 The Community Comes Together
As the storms swept out of the area, Salado residents were left to pick up the pieces following the damaging tornado. Of the buildings damaged or destroyed, many were homes, leaving several residents with little to shelter and struggling to get back on their feet.
But seemingly every business in the community had something to contribute. The owners of La Familia's Rolling Restaurant began cooking up meals for the community, a remodeling company lent a hand to neighbors, and All Creatures Hyperbaric Care even offered to shelter animals in need.
Restoring, Repairing, and Rebuilding Roofs and Homes
With the community already busy helping each other to their feet, even more help arrived from the surrounding area. Roofers, builders, and other professionals have sprung into action to restore the homes of affected families in Salado.
Here at Action Roofing, we've been busy lending our services to families in Salado impacted by the tornado. Roofs are the first line of defense against storms and severe weather, and as such they're also one of the first portions of the home to sustain damage. As a full-service roofer, we've been lending a hand however we can, providing everything from repairs for those on the fringes of these storms to full restorations for those directly in the tornado's path.
In addition to roofing, we also have roots in construction and can provide full storm restoration services. These services have been called on by residents looking to repair not just their roof, but their entire home including siding, gutters, and much more.
Action Roofing: We're Here to Help!
At Action Roofing, being a local roofer is much more than just a label or something to call ourselves. To us, being local means being a part of our community—and that means lending a helping hand to our neighbors whenever disaster strikes.
The skilled professionals at Action Roofing have expertise in all things roofing and construction, including residential and commercial roof repairs and replacements, along with full-service storm restoration to completely restore properties affected by storms.
In addition to our expertise in restoration in repairs, we're also highly knowledgeable when it comes to working with insurance companies. We'll work closely with you to navigate the claims process and ensure you receive a fair payout from unexpected storm damage. If your home or roof has been impacted by recent severe storms, give the experts at Action Roofing a call today!