The Disaster-Proof Guide to Choosing the Best Roof Storm Damage Contractors
When severe weather hits your area, you want to make sure that the roof over your head is ready for it. You need to choose professionals that are experienced and reliable when it comes to storm damage repairs. However, with so many contractors out there claiming to have expertise in storm damage repair work, selecting the right one can be a daunting task. This blog post will provide insight on how to find trustworthy roof storm damage contractors they have both the experience and capability necessary to get your roof up and running again in no time!
Understand the importance of hiring a licensed and insured roof storm damage contractor 
Your home's roof is essential to the overall integrity of your house. When it comes to repairing storm damage, it's crucial to hire a licensed and insured contractor. A licensed contractor has gone through the necessary training and certification to ensure they have the proper knowledge and skills to handle your roof repair needs. Additionally, hiring an insured contractor protects you from any liability in case of accidental property damage or personal injury during the repair process. Making sure you're working with a qualified and insured professional gives you peace of mind that your home and safety are in good hands while ensuring a successful roof repair.
Research roof storm damage contractors in your area with good reviews
Your home is one of your most valuable assets and when a storm sweeps through your area, your roof can take a beating. That's why it's important to research reliable storm damage contractors in your area with good online reviews. You want to make sure you choose a contractor who has experience with your type of roof and can repair any damage quickly and efficiently.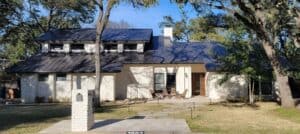 Ask for references from past clients to get an idea of their level of workmanship 
When it comes to choosing a roofing contractor to repair your home after a storm, it can be tough to know who to trust. That's why asking for references from past clients is a crucial step in the process. Talking to people who have worked with the contractor before can give you a great idea of their level of workmanship and the quality of their work. Plus, you may even get some insight into their communication skills, timeliness, and overall professionalism.
Get multiple quotes to compare roof storm damage services and prices
Your roof protects you and your family from the elements, so when a storm damages it, finding the right repair service is essential. Don't settle for the first company you find. Take the time to reach out to multiple roof repair services and get quotes from each. Comparing quotes allows you to find the best service with the most reasonable price, ensuring that your roof is repaired without breaking the bank. This may take a bit of extra effort, but the peace of mind that comes with knowing you made an informed decision is worth it.
Inquire about the roof storm damage contractor's experience in handling similar projects
When it comes to dealing with storm damage on your roof, finding the right contractor is crucial. It's important to investigate the contractor's experience before hiring them, specifically in handling similar projects to your own. You want someone who knows the ins and outs of storm damage repair and who can get the job done efficiently and effectively. Asking about their experience can give you peace of mind that you're investing in the right person for the job.
Have a detailed contract ready before starting any roof repairs or replacements
Roof repairs or replacements can be a daunting task, but having a detailed contract ready can make the process much smoother. It is important to take the time to read and understand every detail before signing. The contract should contain information such as the cost, timeline, materials, and potential issues that may arise during the project. A thorough contract helps ensure that both parties are on the same page and can prevent any surprises or misunderstandings later on.
Finding a roof storm damage contractor is an important task that should not be taken lightly. With the right amount of research and caution, you can ensure that your roof storm damage repairs are conducted properly and safely. Ultimately, being well-informed will help you make the best decision concerning who should handle your roof storm damage repair project.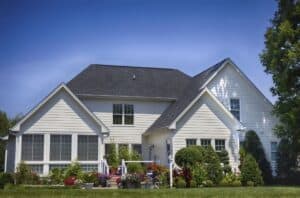 7200 Ranch Rd 2243, Georgetown, TX 78628, United States
(512) 844-1802