Roof Damage Storm: What To Do When Your Roof Is Damaged By a Storm
We've all experienced the ravages of a storm: fallen trees, lost power, disrupted routines. But if your home has been hit with roof damage in the aftermath of a powerful storm, it can be especially troubling. Not only is dealing with repairs costly and inconvenient – you may worry about how to better protect your home against future storms. Thankfully, there are steps you can take to diagnose and repair any roof damage storm (due to a severe weather event). In this blog post we will discuss what you need to know in order to keep your roof in top shape following a bad storm.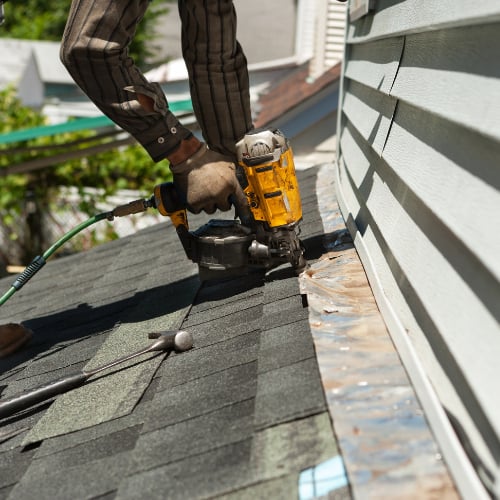 Make sure everyone is safe and out of harm's way  
When a storm hits, it can be a frightening experience that leaves destruction in its path. One of the most common types of damage homeowners face is roof damage. Before you begin to assess and repair any roof damage, it is important that everyone in your home is out of immediate danger. If there are large chunks of the roof missing or hanging off the side of the house, have everyone evacuate immediately until professionals can come and assess the situation.
Assess the damage and take pictures for insurance purposes 
Once the storm has passed and you've ensured everyone is safe, it's time to assess the damage. Look for shingles that are missing or have been blown off, any standing water in your attic (which can cause mold and mildew growth), as well as any obvious holes in the roof. Even if there doesn't seem to be much damage, it's always best to get a professional inspection. Taking pictures of the damage is also important as this will help you when filing an insurance claim and provide evidence of repairs that may be needed.
Call a roofing company to inspect the damage and provide an estimate for repair costs   
Now that you've assessed the damage, it's time to call a roofing contractor. A professional can provide an in-depth inspection and help you determine how extensive the damage is. They will also be able to provide an accurate estimate for repair costs of roofs so that you can have some peace of mind knowing that your home is well protected against future storms. Be sure to ask any questions you may have and get several estimates from different roofing contractors in order to make sure you're getting the best price.
Contact your insurance provider to determine if any repairs are covered under your policy  
Once the roofing contractor has provided a cost estimate for repairs, it's time to contact your insurance provider and determine if any of the costs will be covered under your policy. In most cases, damages due to storm events are usually covered by homeowner's insurance. However, there may still be some out-of-pocket expenses that you will need to pay for yourself, so it's best to check with your insurance provider to find out exactly what is and isn't covered.
Get a second opinion from another roofing company for comparison   
Regardless of the damage caused by a storm, it is always a good idea to get a second opinion. Different roofing companies will have different opinions and cost estimates for repairs, so it's important to compare quotes from multiple contractors in order to make sure you're getting the best deal. Not only that, but having a second opinion can also help you be sure that the repair job will be done properly and according to industry standards.
Make sure to perform necessary maintenance tasks on your roof, such as cleaning gutters or replacing missing tiles, as soon as it is safe to do so  
Finally, once the repairs are complete and your roof is in good condition, don't forget to perform some regular maintenance tasks. This includes cleaning gutters of debris that may have clogged them during the storm, replacing any missing tiles and inspecting for signs of leaks or other damage. While these tasks may seem minor, they can help keep your roof in top shape and protect it from future storms.
Taking care of roof damage caused by storms can be a daunting task, but with the right steps you can make sure your home stays safe and secure. By assessing the damage, getting an estimate from a professional roofer, checking your insurance coverage, and performing regular maintenance tasks, you can help ensure that any storm-related roof damage is taken care of quickly and properly.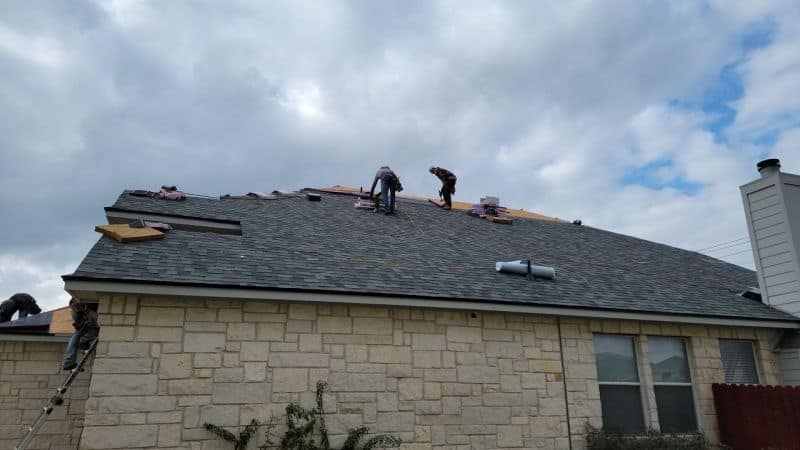 7200 Ranch Rd 2243, Georgetown, TX 78628, United States
(512) 844-1802