Questions You Should Ask Before Hiring Residential Roofers Near Me
Are you in need of residential roofing services near you? When it comes to making sure that your home is protected from the elements, hiring a professional Residential Roofer is an absolute must. A good quality roof should last for several decades with proper care and maintenance – however, finding the right Roofers can be challenging. To make sure that you get the best value for money and workmanship possible, it's essential to ask the right questions before hiring residential roofers near me. 
What certifications and licenses do they have to work on residential roofs in your area? 
When it comes to working on residential roofs in your area, it's important to make sure that the professionals you hire have the proper certifications and licenses to get the job done safely and effectively. Depending on where you live, there may be different requirements for roofing contractors, so it's always a good idea to do your research beforehand. The right certifications and licenses can give you peace of mind knowing that you've hired someone who is not only knowledgeable and skilled but also committed to following regulations and safety standards. 
How long has the business been operating as a residential roofer near you
For homeowners looking for a reliable roofing contractor, knowing the experience of a business can be a crucial factor. Luckily, in your search for a residential roofer near you, you've stumbled upon a seasoned company with a lengthy history of roofing expertise. They've been serving the community for many years now, honing their skills and perfecting their craft – making them a trusted resource for roofing solutions. From installations to repairs, this business is committed to providing top-notch service for its clients. 
Are there any reviews available online about the services of this particular roofer
When it comes to choosing a roofer, it's important to do your research to ensure you're getting a qualified and reliable professional to take on your project. One great resource for gathering information is online reviews. Before hiring this particular roofer, you may be wondering if there are any reviews available online about their services. Reviews can provide valuable insight into a roofer's quality of work, customer service, and overall reputation. 
What methods do they use for the installation, repair, and maintenance of residential roofs? 
The installation, residential roof repair, and maintenance of residential roofs require a variety of methods depending on the type of roof and its condition. For installation, roofers use methods that involve measuring, cutting, and securing the roofing materials to create a complete and functional roof. Repairs, on the other hand, may require patching or replacing damaged shingles, flashing, or underlayment. Regular maintenance tasks include inspections, cleaning, and applying protective coatings to extend the lifespan of the roof. Safety is a top priority in any roofing project, so professionals use the necessary equipment and follow safety guidelines to ensure that the job is done right. 
Do they specialize in certain types of roofing materials such as tile, asphalt shingles, or metal 
Choosing the right roofing material for your home is an important decision. When looking for a roofing contractor, it's essential to find one that specializes in the type of material you want for your roof. Some contractors focus on tile roofing, while others may specialize in asphalt shingles or metal roofing. Working with a specialist in your desired roofing material can ensure you receive high-quality workmanship and expertise specific to your roofing needs.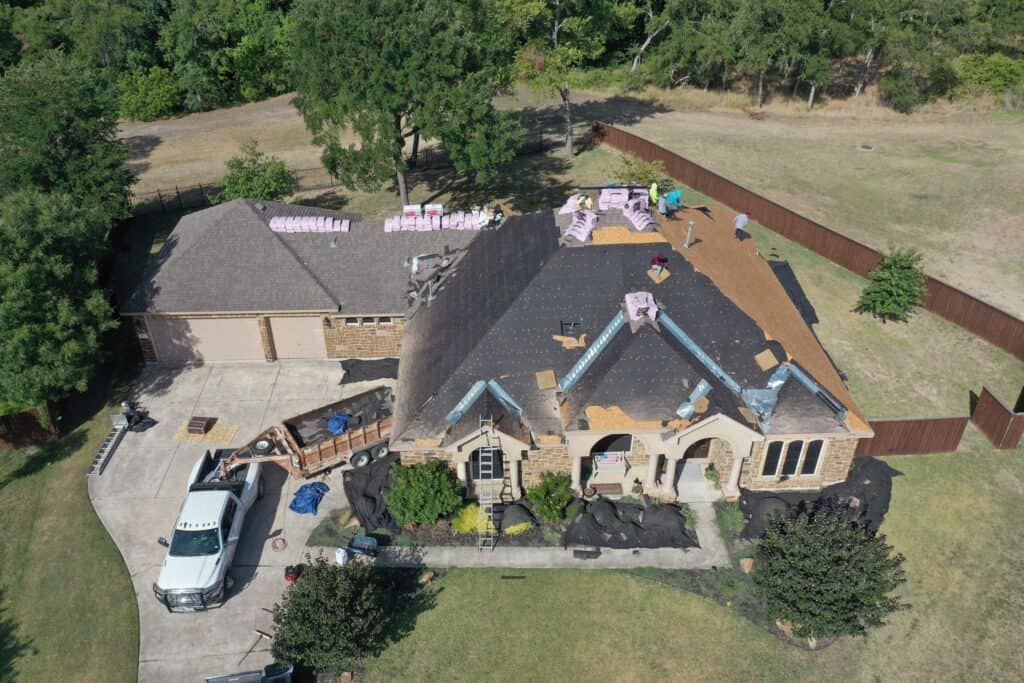 What kind of warranty or guarantee do they provide for their workmanship?
When it comes to finding someone to fix or make something for you, it's important to know that their work is backed by a solid warranty or guarantee. So when you choose a company to provide any kind of workmanship, be sure to ask about their policies. A good warranty or guarantee can give you peace of mind that you'll be taken care of if anything goes wrong. You'll want to inquire about the length of the warranty, what it covers, and what steps you need to take in case you do need to use it. With a trustworthy warranty in place, you can feel confident in your choice of contractor and focus on enjoying the finished product.
7200 Ranch Rd 2243, Georgetown, TX 78628, United States
(512) 844-1802