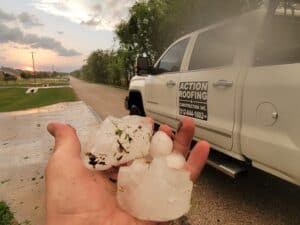 On April 12, 2022 at about 5:30pm, Salado, Florence and cities all over Bell County Texas were pummeled by severe storms bringing tornados and large, dense hail. As a result, many homeowners saw major damage to their roof, siding, windows, and more. If you live in the Bell County and were affected by the recent storm, it's important to contact storm damage repair contractors promptly in order to start the process of filing an insurance claim.
Action Roofing is the leading team of storm damage repair contractors serving all of Central Texas, with a trusted brick and mortar location in Georgetown, TX. We specialize in completely restoring properties affected by Texas's all-too-frequent severe storms. We have the knowledge and skills to repair your roof and home exterior quickly and expertly to restore your home to perfect condition. Here are some steps you should take if you've been affected by recent storms!
Look for Signs of Storm Damage
Not all signs of storm damage are obvious to the naked eye. However, there are a few clear indicators that your home has been damaged by wind, rain, or hail passing through your area.
Loose, Cracked, or Missing Shingles
Asphalt shingles are still the most common residential roofing material in use today. While fairly durable, they can be damaged by high winds or large hail. Missing shingles are a clear sign of storm damage. However, shingles that are merely cracked or jarred loose should also be repaired.
Dings or Dents on Your Home's Exterior
Whether from hail or debris kicked up by high winds, dings or dents indicate a need for storm damage repair by professional contractors. Look for marks not just on the surface of your roof, but along gutters, your home's siding, and even exterior features such as a pool deck. Dents here indicate that the storm was powerful enough to cause damage to your roof as well.
Loose Asphalt Granules
Asphalt granules indicate that your home's first layer of defense against the elements may be compromised. Look for granules around the edge of your home or collected in your gutters, if you have them. While a few granules are normal, a large amount of granules indicates more significant roof damage.
Contact Your Insurance Provider Right Away
While every insurance policy differs, most insurance providers will cover storm damage in some capacity. Regardless of your coverage for certain types of damage, though, almost every insurance company requires that you file a claim within a certain window of time in order to receive payment for any damage to your home.
When a severe storm passes through your area, it's a good idea to notify your insurance provider immediately. This is especially true if you've spotted any of the clear signs of damage to your roof or home exterior noted above. Either way, calling your insurance provider will get the ball rolling and ensure that your claim can be filed within the appropriate window.
Call the Expert Storm Damage Repair Contractors: Action Roofing!
Since 2005, Action Roofing has been the top team of roofing contractors for storm damage repair and restoration services in Central Texas. With our background in construction, we have the necessary expertise to repair not just your roof, but other portions of your home's exterior that may have been damaged by recent storm activity.
We also have the experience needed to help you navigate the complicated process of filing an insurance claim. We're dedicated to our customers and will advocate for you every step of the way, making sure that damage to your home is fully documented and that you get a fair payment from your provider.
If you feel your home may have been damaged by recent storms, contact us today for a full inspection of your roof and property!