Action Roofing Helped Push This Insurance Claim for Roof Damage Over the Finish Line
Roof damage insurance claim denials can happen for all sorts of reasons. Sometimes adjusters simply fail to account for the full scope of damage, while other times they may not be aware of additional specialized information that would warrant coverage for a roof replacement.
At Action Roofing & Construction Inc., we make it a point to explore every avenue as we try to help our customers substantiate their insurance claims. In this Project Spotlight, our customer had previously been denied due to the limited damage to the roof—but the insurance adjuster missed a crucial detail that our team was able to point out to help substantiate this homeowner's case.* Let's take a closer look at this project!
Background
Our client for this project was a homeowner located in Lago Vista, TX. Lago Vista is located just northwest of Austin, on the other side of Lake Travis. This client had never worked with Action Roofing previously, and they first came into contact with us through a referral. We had previously worked on his neighbor's roof, and our excellent work there led to the recommendation.
The Project: Repair Insurance Claim Roof Damage
This homeowner had previously filed an insurance claim for damage to their roof. After being denied, they contacted us to complete a minimal 10-shingle roof repair to resolve the damage. 
However, this homeowner also knew Action Roofing as a local roofer that fights for our customers. His hope was to have us guide him to get a new roof, as his roof had several issues not related to the storm damage that would be resolved if a full replacement was approved, most notably a leaky gutter system.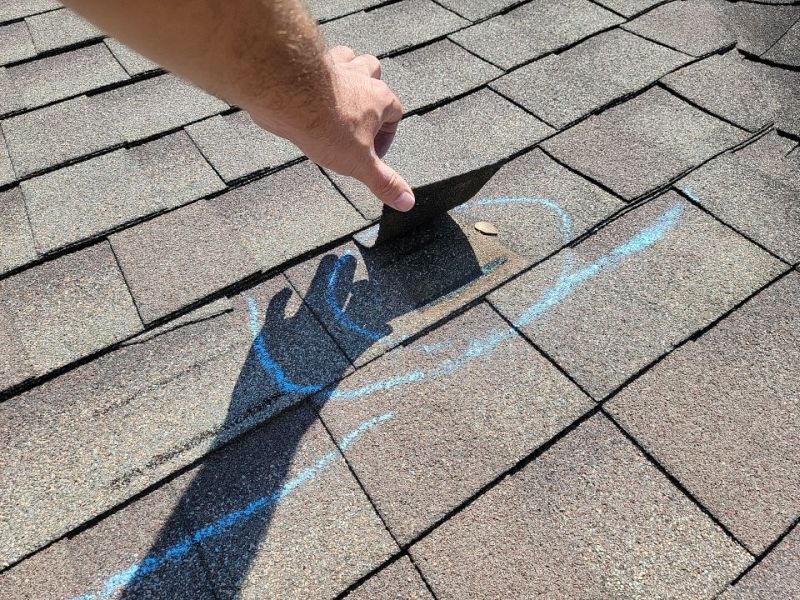 The Challenge: Building a New Case
Typically, our process in helping homeowners to substantiate an insurance claim for roof damage is to thoroughly inspect the roof and identify damage that may have been overlooked by the adjuster. In this case, the claims adjuster told the homeowner that they didn't think he should have filed the claim due to the limited extent of the damage. 
However, as our team worked to inspect and prepare the roof to repair, we made a crucial discovery: the roof was made from a discontinued GAF-Elk shingle that new GAF shingles would not be compatible with. We used this new piece of information to help the homeowner build a new case for a replacement.
The Result: A Successful Insurance Claim for Roof Damage
Given this new information that the adjuster initially missed, the insurance company approved a full replacement for this roof. Our team got to work replacing the old discontinued roofing system with new GAF Timberline HDZ shingles. Our expert roofers also recommended TimberTex ridge caps to accentuate the hip-style roof on this home. 
With approval for a full replacement, we were also able to detach and reset the gutters on this home so that they no longer leaked. We also installed new drip edge flashing.
The end result was a beautiful new, updated roof and a very satisfied homeowner.
Claim Denied? Action Roofing Can Help!
At Action Roofing, our past projects are full of great examples for why an insurance claim denial doesn't have to be the end of the road. In this case, the adjuster was simply unaware that the roof's existing shingles had been discontinued, illustrating why it's always a wise decision to have a roofer present during your adjustment.
If you've recently had an insurance claim denied, don't give up hope! The insurance claims process can be tricky, but at Action Roofing we leave no stone unturned as we work to build the best possible case for our customers. Contact us today!
*NOTE: Action Roofing & Construction Inc. and its authorized representatives are NOT acting as Public Insurance Adjusters and will not negotiate with insurance on Customer's behalf.