How to Assess Hail Storm Roof Damage & Prevent Further Issue
The aftermath of a hail storm can have a devastating effect on your roof. Even with the highest quality asphalt shingles, your home is still vulnerable to severe storms and needs proper assessment after they've passed. Hail can leave behind permanent damage and increase the likelihood of you experiencing further issues in the future if not addressed immediately. If you suspect roof damage from recent hail activity, it's important to take steps toward assessing the problem so repairs can be made quickly and correctly to protect your property long-term. In this blog post, we'll discuss how to identify hail storm roof damage and prevent further issues from occurring.
Understand the risks of hail damage to your roof and how it can impact the life expectancy of your home 
Hailstorms can be a terrifying experience, especially if you own a home. It's not just about the potential damage to your vehicles or property – hail damage to your roof can be catastrophic. Yet, oftentimes homeowners overlook the severity of hail damage until it's too late. That's why it's so important to understand the risks of hail damage and how it can impact the life expectancy of your home. The truth is, even small dents from hail can weaken the integrity of your roof over time, leading to leaks and other costly repairs. So, if you live in an area prone to hailstorms, it's crucial to be proactive in protecting your investment by regularly inspecting your roof and making necessary repairs as soon as possible. Trust us, your future self will thank you for it.
Inspect your roof for visible signs of hail damage, such as dents and broken shingles  
After a hail storm, the best way to assess your roof for damage is by visually inspecting the entire area and noting any signs of wear or damage. Common signs of hail damage on asphalt shingles may include dents, broken shingles, torn areas, or missing granules. It's important to keep in mind that not all hail-related damage is visible from the ground, so if you suspect hail storm roof damage, it's best to hire a professional to perform an inspection. They have the expertise and tools needed to properly assess your roof for issues that may not be obvious with just a visual inspection.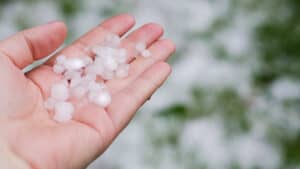 Take pictures of any signs of hail storm damage you find so you can show contractors or insurance companies if necessary   
Hail storms can cause serious damage to your roof, and it's important to document any signs of this damage in case you need to file a claim with your insurance company or work with a contractor to get it fixed. Taking pictures of the damage is an easy and effective way to ensure that you have the evidence you need to support your claim. So, if you find any signs of hail storm roof damage, be sure to snap a few photos from different angles, and make note of the date and time you took them. By doing this, you'll be well-prepared to get the repairs you need and avoid any headaches during the process.
Have an experienced roofing contractor come inspect your roof for hidden damage that could be missed by laypeople
In addition to the visual inspection, it's also important to contact a trusted roofing contractor for a more thorough assessment. The professionals have years of experience and the right tools to spot any hidden damage that may be missed by laypeople. During the inspection, they'll check for loose or missing shingles, areas where water may enter in through, and any other damages that could be causing your roof to age prematurely. After they've completed their assessment, the contractor will provide you with a full report and recommendation for needed repairs or replacement.
Make sure existing gutters are properly functioning and that there are no loose or damaged shingles 
Beyond the visible signs of hail damage, it's also important to inspect your gutters and ensure that they're functioning properly. Gutters play an essential role in proper roof drainage, so if yours are clogged or not securely attached to your house, chances are you'll be dealing with water damage down the road. Additionally, check for any loose or damaged shingles that could be displaced by strong winds or heavy rains. If you find any, replace them immediately to help protect your home from further damage.
By taking the time to assess your roof for any signs of hail storm damage and making the necessary repairs, you can help extend the life of your home and protect it from future storms. However, if in doubt or dealing with an extensive repair project, don't hesitate to contact a professional roofing contractor who will be able to help you get the job done right.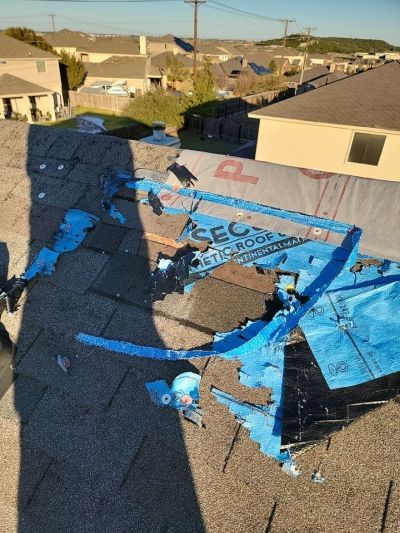 7200 Ranch Rd 2243, Georgetown, TX 78628, United States
(512) 844-1802