Action Roofing Completed a Metal Roofing Project on This Central Texas Home 
Metal roofing is becoming more and more popular for homes here in Central Texas. Long seen as an exclusively industrial or commercial roofing option, residential metal roofing has come a long way. There are many gorgeous styles, shapes, and colors available, and the durability that metal roofing provides is ideal for Central Texas homes often threatened by hail, severe storms, and more. 
For today's Project Spotlight, we're taking a look at a roof replacement we completed in Central Austin, installing a brand new metal roof to replace the existing asphalt shingles. Our expert roofers consulted closely with our clients to complete the pr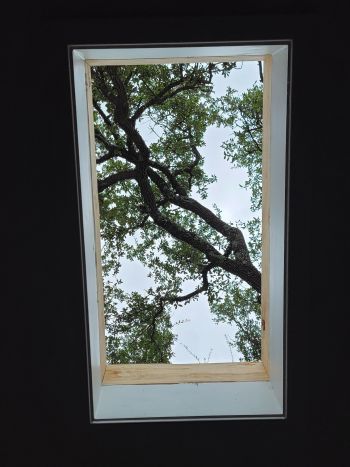 oject, and the result was a brand-new, durable metal roofing that left the home looking beautiful.
Background
This home was located in Central Austin, in the neighborhood of Mesa. Our customer came to us on a referral from a very relevant and trusted source: one of their neighbors! After reroofing another home in their cul de sac, they were so impressed with our work that they decided to hire us themselves. 
The Project: Storm Restoration and Replacement
This home's roof had sustained some damage from recent storms, and they needed a storm restoration expert to handle the replacement. As is frequently the case for our customers, they had not received coverage for previous storm damage to their home's roof. That meant our team would need to help substantiate an insurance claim for old storm damage done to their roof before proceeding.* 
Other portions of the home had been damaged by storms as well, including a few skylights that would need to be replaced. During the course of this project, we also identified some dry rot on the home's existing cedar siding that we would need to address, too.
The Challenges: Transitioning from Siding to Metal Roofing
Changing from shingles to metal roofing presents some unique challenges. First, the installation itself can be tricky, as it requires retrofitting a new type of roof to a building initially intended to use asphalt shingles. 
Further, for some Central Texas homeowners, the change from traditional shingles to a metal roofing system can be jarring. While metal roofing has come a long way over the years, it does have a distinctly different look from asphalt shingles. That meant it was important for our team to plan carefully in order to build a new roof that would look right for this home while switching over from shingles to a metal roof.
As if those challenges weren't enough, we also found that the original size for the home's skylights had been discontinued. Finally, as this was a December project, our team needed to work around some truly unexpected weather and, of course, the holidays!
The Result: Metal Roofing Built for Central Texas
In the end, our team came through on all fronts for these homeowners. We gained full approval on the old damage to the roof, which went a long way in funding the project. We also consulted closely with the homeowners in designing the new roof and redesigning the skylight tunnels. 
The new dark bronze metal roofing used a standing seam design, which blended well with the existing aesthetic of the home, akin to a Central Texas farmhouse. Since we were replacing the siding as well, we were also able to adjust the direction of the siding to match the pitch of the roof, which really brought the whole look together. 
Our team came through beautifully on this project, and our customers couldn't have been happier with the end result!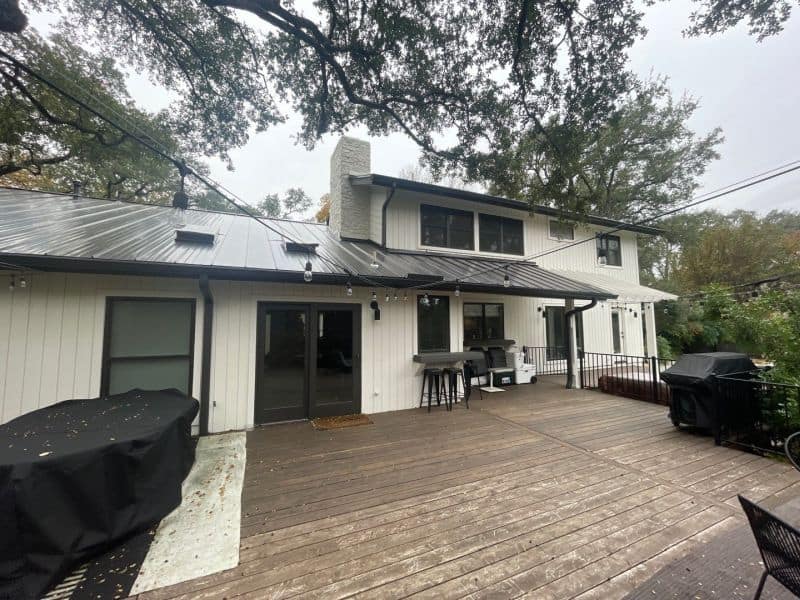 Action Roofing: Central Texas Metal Roofing Experts
At Action Roofing & Construction, we love working with homeowners to revitalize the look of their home and add incredible durability through new metal roofing. Metal truly is an ideal roofing solution here in Central Texas, and the limitless options available today mean you can get the exact look you want for your home.
If you're looking to make the switch from shingles to metal, Action Roofing is the expert to call! Contact us today to get started.
*NOTE: Action Roofing & Construction Inc. and its authorized representatives are NOT acting as Public Insurance Adjusters and will not negotiate with insurance on Customer's behalf.